As the weather cools off and the leaves start to change, those of us who are lucky enough to have a fire pit in our outdoor space are gearing up for some cozy evenings. So, we've put together 10 fun ideas for some simple party themes that go perfectly with a warm night around the fire. Invite your friends and family over, grab some yummy treats and enjoy the cool seasons ahead.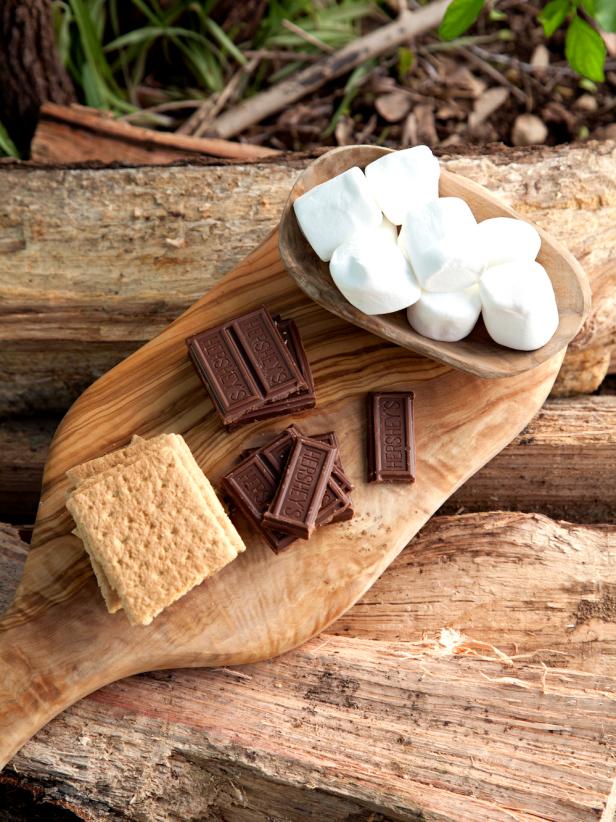 Kimberly Finkel Davis, 2013 Kimberly Finkel Davis
A crowd-pleaser for both kids and adults, a s'mores party is the perfect idea for gathering everyone around the fire pit. Collect some long sticks from your yard to use for marshmallow roasting, pick up some chocolate bars and graham crackers from the market, then you're pretty much ready to go. To mix things up a bit, try some gourmet chocolate bars in different flavors, or mix in some colorful marshmallows.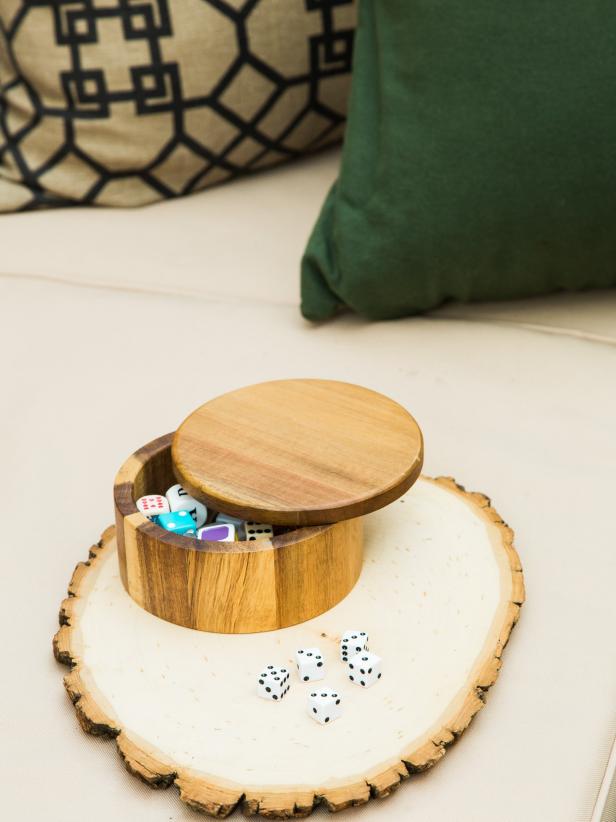 Flynnside Out Productions
An easy, go-to party theme that's great for a small crowd is game night. Depending on how many people you invite, different games might be better suited for your group. Our favorite adult games? Say Anything, The Game of Things, Buffalo and, of course, Cards Against Humanity. Break into teams and keep score. The winning team takes home a bottle of wine!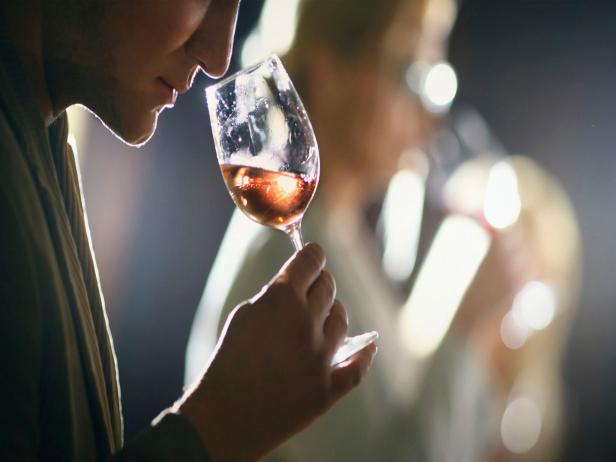 For a wine-loving crowd or for a special occasion, a wine-tasting party around the fire would make for a fabulous evening. Each guest can bring a bottle of local wine (or even a bottle from a particular country). Pair the wines with a beautiful cheese plate.
Movie Night Under the Stars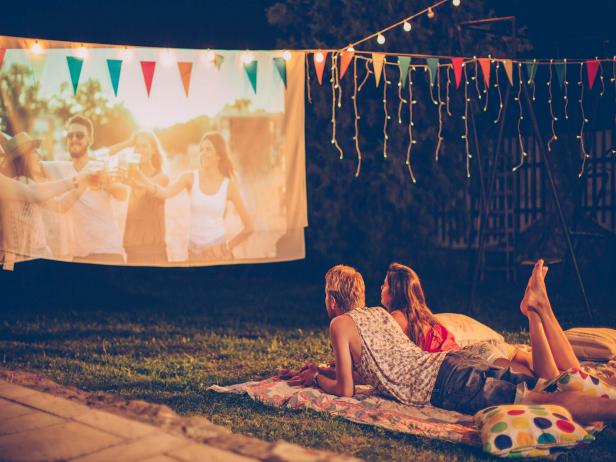 If you have the space in your yard, setting up an outdoor movie night around your fire pit might be easier than you think. Create a movie "screen" by stringing up a white sheet between two trees. There aresimple, inexpensive smartphone projectors that you can use to stream a movie from your phone. Hand out popcorn in paper bags and offer up some boxed candy. You can even come up with a fun theme for the night, like "Totally Rad '80s Movies" or "Cult Horror Film Fest."
Grill-Your-Own Kabob Party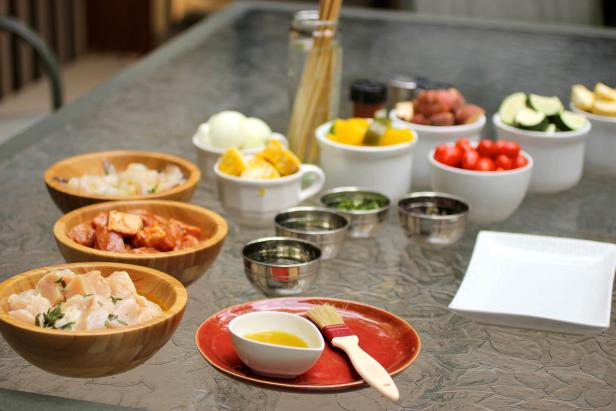 If you want to invite your friends and family over for a nice meal, consider having a shish kabob party. For best results, prepare and pre-BBQ each of the kabobs before your guests arrive. Then, everyone can choose their own kabobs and finish them off by cooking them a bit more in the fire pit. Offer some vegetable-only kabobs for the vegetarians, and consider doing some fun hot dog or hamburger kabobs for the kids.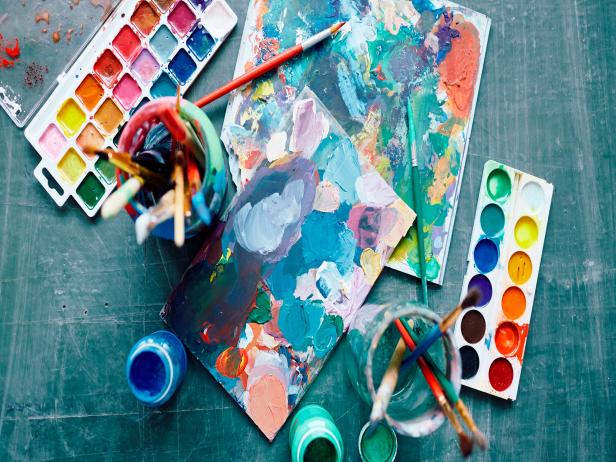 mediaphotos/istockphoto.com
For a creative crowd, throw a painting party around the fire pit. Purchase inexpensive watercolor kits from your local craft store and one big watercolor pad. Give each guest a couple of their own blank sheets and a paintbrush. If you have a nice view from your yard, you can suggest that each guest try to paint the landscape.
To really amp up the fun, you can turn it into a raucous karaoke night. If you don't have your own karaoke machine, you can use an app on your smartphone. If your guests are shy, consider breaking everyone up into singing teams. Take things up a notch by planning a theme around the night, such as "'60s Woodstock" or "Old-School Hip-Hop." You can even ask guests to come dressed in costume.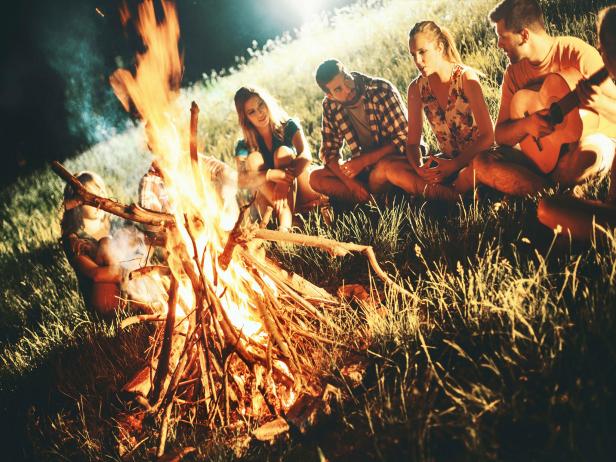 If you love the idea of camping, but don't want to pitch a tent at a campsite, then why not throw a camp-out around your fire pit? Serve treats like bug juice cocktails and corn dogs and set up a few tents around your yard. Or roast up some marshmallows in the fire and trade old ghost stories with your group. If you have a guitar player in the crowd, you can organize a group sing-a-long.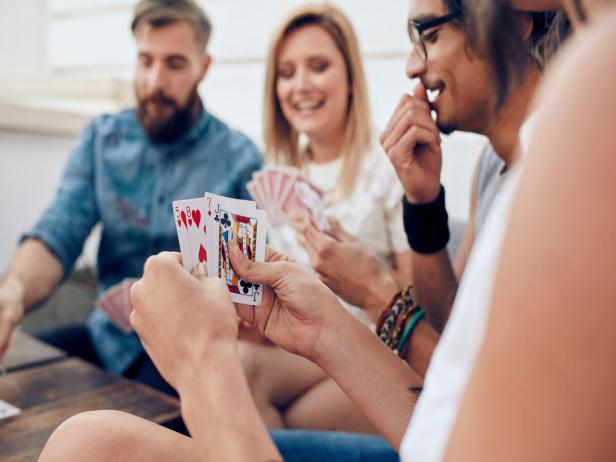 Jacob Ammentorp Lund/istockphoto.com
Stick with card games such as blackjack or poker for your group, and use pennies if you don't have poker chips. Serve easy-to-make martinis and snacks such as mixed nuts or pretzels. For the winners, let them "cash in" their chips for inexpensive prizes and gifts from the 99-cent store.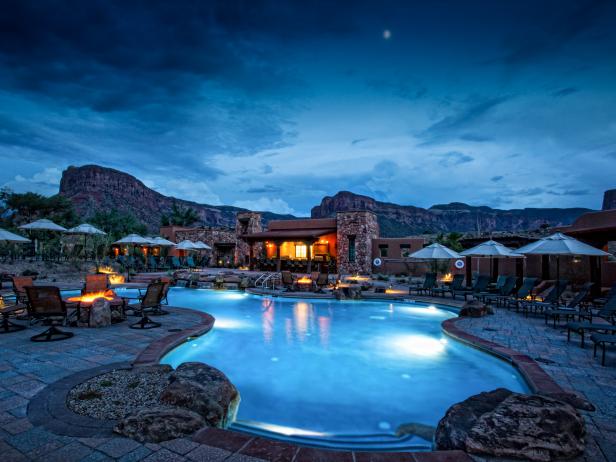 Depending on the month, different constellations will be visible in the night sky. Try printing out each of the constellations on a sheet of paper and handing out one to all of your guests. Take turns trying to find all of the constellations together in the sky. A silly take on the theme might include treats like Starburst candy and MoonPie cakes.
original blog post: http://www.hgtv.com/design-blog/entertaining/10-fun-parties-to-host-around-your-fire-pit-this-fall#20647712